PatchAid – Vitamin Patches
Vitamins for Today's World
Today's world is fast-paced and customer-driven. You expect convenience and the latest technology in healthcare, the foods you eat, and even when you shop for clothes and household items. Why would you not expect your vitamins to be the same way?
WHY PATCHAID?
EASY TO USE
No pills, no fuss. Stick a PatchAid vitamin patch on any clean, hair-free area of skin and take it off when you are finished using it.
FITS YOUR HEALTHY LIFESTYLE
Lactose-free, gluten-free, and sugar-free. The PatchAid vitamin patches are hypoallergenic and latex-free.
LATEST TECHNOLOGY
Premium, hypoallergenic 3M fabric is specially designed for transdermal applications. The multidirectional elasticity lets you move while the vitamin patch continues to stick.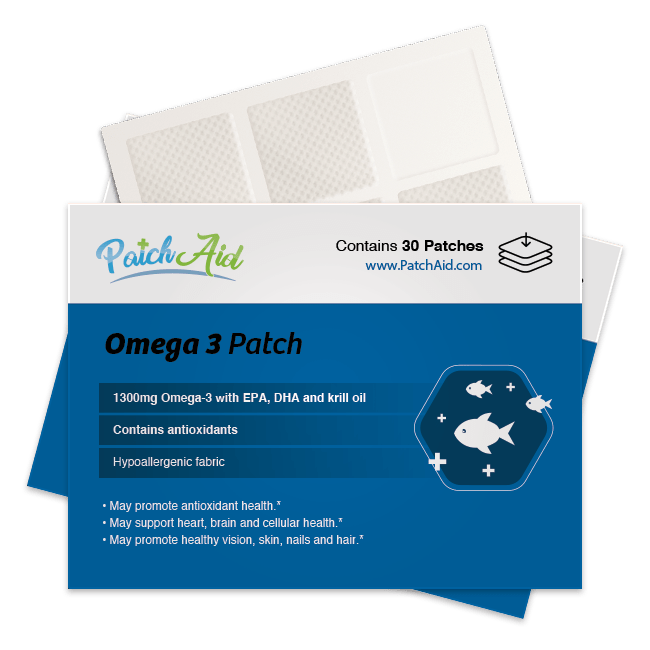 PatchAid is the latest in nutritional supplements. Each patch contains a specially-formulated collection of vitamins, minerals, and/or other nutrients designed to promote health. The ingredients are suspended in a matrix, and are activated to mobilize when the patch is applied to your skin and exposed to the heat and moisture from your skin
Our patches are designed to be worn up to 8 hours. Wearing the patches beyond 8 hours may cause adverse skin reaction.
Apply our patches on your body in a location with little or no hair. Your hip and shoulder are recommended locations. For best results, rotate the patch location, placing it on different parts of your body in a revolving cycle.
When you use a patch, you do not need to worry about the discomfort of swallowing pills, or about possible reactions to gluten, sugar, or lactose that may be in pills. You also do not need to worry about taking your vitamins on a full or empty stomach, or about the gastrointestinal discomfort that can be a side effect of taking certain vitamin pills.